Marc Anthony - Mended
"Mended" is a Pop music by Marc Anthony, the record was released on 21 May, 2002. The content or meaning of the record which contains a total of 13 song(s) is tagged "non-xplicit". Scroll down to find some reviews about "Mended" in the review section (if available). You will also find more songs and albums from Marc Anthony with links. Spotify, Apple Music, YouTube, Amazon, Deezer, Soundcloud, Tidal and YouTube Music links to download, buy and stream this release are also provided.
Mended
Genre: Pop
Released On: 21 May, 2002
Explicitness: notExplicit
Tracks Count: 13
℗ 2002 Sony Music Entertainment, Inc. WARNING: All Rights Reserved. Unauthorized duplication is a violation of applicable laws.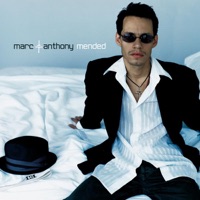 Tracks
| NO | Preview (30 Secs) | Title | Artist | Time |
| --- | --- | --- | --- | --- |
| 1 | | Love Won't Get Any Better | Marc Anthony | 3:37 |
| 2 | | She Mends Me | Marc Anthony | 3:17 |
| 3 | | I've Got You (New Radio Edit) [Ric Wake Version] | Marc Anthony | 3:50 |
| 4 | | I Need You | Marc Anthony | 4:11 |
| 5 | | Tragedy (New Album Version) [Ric Wake Version] | Marc Anthony | 4:07 |
| 6 | | I Reach for You | Marc Anthony | 3:26 |
| 7 | | I Swear | Marc Anthony | 3:45 |
| 8 | | Don't Tell Me It's Love | Marc Anthony | 3:34 |
| 9 | | Do You Believe In Loneliness | Marc Anthony | 4:04 |
| 10 | | Give Me a Reason | Marc Anthony | 3:09 |
| 11 | | I Wanna Be Free | Marc Anthony | 3:57 |
| 12 | | Everything You Do | Marc Anthony | 3:23 |
| 13 | | Te Tengo Aquí | Marc Anthony | 3:50 |
Reviews
You are so sweet Marc I love you and your music

By Angle canna

You are so sweet Marc I love you and your music

missing tracks!

By Irieeeeeeeeee

the itunes version is missing two tracks. don't buy it.

Lovely ....

By Nazli D

Lovely .... Love every word on this song ... Ohhhh

luv

By S.STEPANIAN

i love him and his voice :)

Unbelievable

By TNC123

The good Lord blessed this man with the most beautiful voice I have ever heard in my life. No one will surpass him. He sings from the heart and with such passion. He feels what he is singing. He puts you in the mood of whatever the song is. You can feel it in your heart and mind. Get this CD as well as the one before called "Marc Anthony". You won't regret it. I hope he comes out with another English CD.

Mended

By Chloefiorella

Excellent.. Marc Anthony is the Best... Is the only artist who sing from the heart. Record or Live Concert is always High Quality... Kudos for Him... I'm so proud of him... God bless him always

What about the bonus?????

By vpinezic

According to other sources that show the list of songs on this album, there are supposed to be 2 bonus tracks, including "Me Haces Falta". iTunes, why don't we get these bonus tracks when we purchase the album??? How are we supposed to get these extra songs?? They aren't on any other albums. DO you or DON'T you want us to use iTunes as our main source of music??? If so, then don't gyp us on something we would get by going out and buying the actual CD.

Bueno

By darrinpegram

Elegant and romantic...

3 1/2 stars if i could..

By luciano315

A few good songs but not as strong as his last english album

Romance album

By KCCP

Pure love and loss album. Maybe very different from prior work, but very nice lyrics in his love songs. Great songs for a romantic evening.
Load More
Download, Buy & Stream Links
Choose your prefered digital platform below: Spotify and Deezer will direct you to the mobile app if installed but other links will take you to chosen platform with search term "Marc Anthony Mended".