Epic Rap Battles of History - Blackbeard vs Al Capone
"Blackbeard vs Al Capone" is a Comedy music by Epic Rap Battles of History, the record was released on 19 Oct, 2013. The content or meaning of the record which contains a total of 1 song(s) is tagged "non-xplicit". Scroll down to find some reviews about "Blackbeard vs Al Capone" in the review section (if available). You will also find more songs and albums from Epic Rap Battles of History with links. Spotify, Apple Music, YouTube, Amazon, Deezer, Soundcloud, Tidal and YouTube Music links to download, buy and stream this release are also provided.
Blackbeard vs Al Capone - Single
Genre: Comedy
Released On: 19 Oct, 2013
Explicitness: notExplicit
Tracks Count: 1
℗ 2013 Maker Studios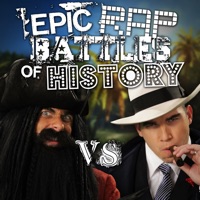 Tracks
| NO | Preview (30 Secs) | Title | Artist | Time |
| --- | --- | --- | --- | --- |
| 1 | | Blackbeard vs Al Capone | Epic Rap Battles of History | 2:08 |
Reviews
2nd best ERB

By Sonic hedgehog #1 Fan

This is so far the 2nd best ERB.I would recommend it.BTW Al Capone won

Great pairing!

By ejamc

This was really hard! Both men are equally infamous criminals, and they both rap very well, but I have to say Al won, because , c'mon, he's Al Capone!

Great song by super grant 1000000000

By Supergrant00

Good rap battle I liked this and hitler vs vader 3 they should do captain jack sparrow vs Han Solo for season 3 since they did this pirate Blackbeard do this battle for this season please!

Blackbeard

By Freak de freak

I love the part with Edward in the back.

EPIC RAP BATTLES OF HISTORY

By Nicholas0402

This one of the best rap battles that I've listened too in a long and it's one of my faves Al Capone won and for the Battle for season 3 should be John Lennon Vs. Bill O'Rielly REMATCH

So far, so good!

By Rockin' Larson

So far, ERB Season 3 is off to a good start! I'm liking this track a lot! I feel that this was a complete tie and there needs to be a rematch in the future. Great job, Nice Peter and EpicLLOYD! You guys always do a fantastic job on these!
Load More
Download, Buy & Stream Links
Choose your prefered digital platform below: Spotify and Deezer will direct you to the mobile app if installed but other links will take you to chosen platform with search term "Epic Rap Battles of History Blackbeard vs Al Capone".